Here's one source
and there's a few others floating around. I believe them, myself. Luckily, the military versions (the
F2000
) is still being produced for the spare parts availability problem. I've fired a friend's FS2000 and I just didn't get it. One wonders if FN is just concentrating on the SCAR or did these things not sell well, even during the recent
Barackolypse 2.0 Gun Buying Panic
?
Anyway, here's a sort of review of one from a good friend. Said review is from years ago but I think it's still informative. Said friend is now a Ranger combat vet and is still a dedicated shooter.
I bought an FN FS2000 on a whim the other day. I handled it, I thought it was interesting, it was selling for $300 less than they list for, so I picked it up. Also, with rabbit season just around the corner, I wanted something compact that I could have fun with in the car, and also it just drops the empty casings out the front, which is nice for when you're shooting at vermin from inside a vehicle. Hot brass near the pedals is always better than hot brass on leather, or down a friend's shirt. It's a fun shooter.
It points well, the Eotech sits just right on it, the balance is nice and it's pretty light. It also is NOT ergonomic like everyone says it is, and it's also not very reliable. Mag changes are barely a step up from the AK, and when it jams, (which it does) it's nearly impossible to get operating again in under 3 minutes.
A triple feed. I didn't even know this was possible.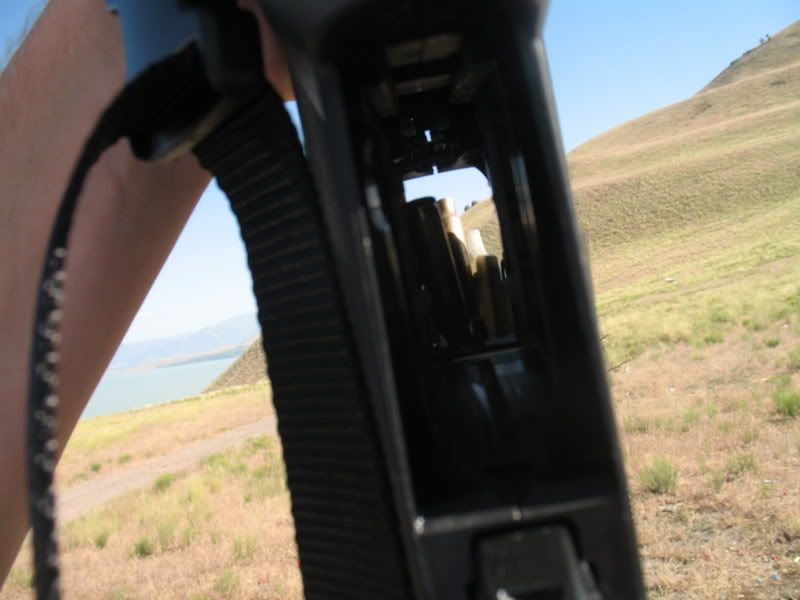 This is how you clear a malfunction.
To reload, you grasp the mag, and push up with your knuckle, then wrench the mag free. It doesn't drop free, in fact it'll fight you on it's way out.
With no bolt hold open, you've got to charge it everytime you reload.
Post Script: the trigger really does suck.